Cigar Store in Fort Collins, CO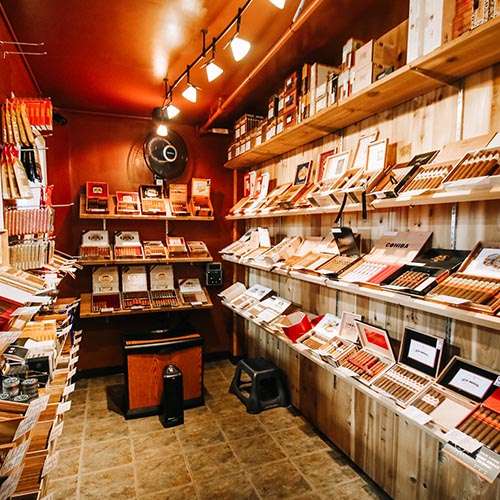 For one of the very best selection of top cigars in Fort Collins, your destination has to be Fort Collins Warehouse Liquors. Our selection contains everything an enthusiast needs to enjoy the perfect smoke, from various wrappers and sizes to a gamut of flavors and popular brands.
Walk-In Cigar Humidor
Come to check out our beautiful cigars humidor in Fort Collins, CO! These best humidors set us apart from other retailers. We keep all of our top cigar stock at the right temperature and humidity levels, to ensure the freshest smoke possible when you buy from us. We invite you to visit us today, step inside and see for yourself! You'll be met with an aromatic atmosphere and an enormous selection of best-selling cigar humidors, accessories humidors, travel humidors, samplers that we're sure will be a little slice of heaven for any aficionado.
Pipe Tobacco Shop
Whether you're someone who prefers smooth, medium-bodied taste or you love divinely strong cigars, you'll find exactly what you're looking for at our cigar shop in Fort Collins, CO. We cater to all tastes and complexities, with options for new cigar humidifier lovers and tenured enthusiasts alike. We carry quality brands such as Acid, Arturo Fuente, Macanudo, Partagas, Punch, Romeo Y Julieta, Oliva, My Father, Montecristo, Perdomo, Rocky Patel, Parodi, and La Gloria just to name a few! Fort Collins Warehouse Liquors offers popular cigar 5 packs, cigar humidors, cigar cutters, cigar lighters, cigars medium to full samplers, filtered cigars, samplers 5 packs, and more.
Also, we have a number of different cigar styles in stock, depending on your preference. Choose from the torpedo, Robusto, Churchill, or perfecto styles along with much more, to give yourself the perfect smoking experience.
---
Top Cigar Brands:
Cusano
Davidoff
Diamond Crown
Diesel
Djarum
Drew Estate
E.P. Carrillo
Factory Throwout
Foyle
Hawken
Java
JFR
Joya
Acid
Aging Room
AJ Fernandez
Al Capone
Alec Bradley
Arturo Fuente
Ashton
Avanti
Baccarat
Bellas Artes
Charter Oak
Cohiba
Cuban Rejects
Parodi
Partagas
Perdomo
Punch
Quorum
Rocky Patel
Romeo Y Julieta
San Cristobal
Swisher Sweets
Tabak
Tatiana
Warfighter
Kentucky Cheroots
La Aroma De Cuba
La Gloria
Liga Privada
Macanudo
Montecristo
My Father
My Uzi Weighs A Ton
New World
Nub
Oliva
Opus X
Padron
Cuban Roundss
---
The best place to buy cigars
We're intimately familiar with every cigar product we sell, meaning you can always come to us when you're looking for something in particular. You might be looking for popular cigar samplers, medium cigars, cigar cases, cigar ashtrays, 5+ finger ashtrays, filtered cigars, samplers 5 packs, travel humidor, pipe accessories and others. Our premium cigars are no exception! We can help you find your ideal choice in our inventory, based on your preferences. Just speak with one of our staff today for help.
For more information about any of the cigar sampler options we offer in our exclusive walk-in humidor, please contact us today or give us a call at (970) 225-1300.